We are a platform funding queer media careers
We are a community interest company (CIC) that is helping the LGBTQIA+ community and underrepresented creatives.
Our mission is to support, mentor, and build the resilience of queer creatives to get their first commissions and kickstart their media career.
As we grow, QueerAF is building a community-led platform where the editorial decisions are in our readers' hands.
It will be a place for our mentees to start their careers. Where they can learn to thrive as a queer producer, journalist, and creatives. All while we support them to carve a path into the industry.
We're doing all of this because we believe the UK media industry thrives when it's bursting with queer talent.
And that's crucial because only a media industry that represents, hires, and understands us – can help shift the narrative on being queer in the UK.
We are #QueerAF – and so are you.
Make our work possible
---
What can you expect from us?
We believe queer creators should be paid, but that LGBTQIA+ information should not be a luxury. That's what drives everything we do at QueerAF.
Right now, we're beta testing a weekly summary of the queer week. Why? So we can launch a newsletter where, instead of doom scrolling to find out 'what You-Know-Who said this time' – you can get a summary of the LGBTQIA+ world, written with a queer gaze, sent to your inbox once a week instead.
We're going to pack the email with content from the voices that need amplifying through the noise, and LGBTQIA+ content (from podcasts to long-reads) we think you'll love.
But we don't want to stop there. And that's where you come in.
Sign up for free now
Driven by our audience - not by advertisers
We're going to build a community-led platform which – like our podcast that started us off – helps develop, support and pay emerging queer content creators.
When you become a member, you will also be funding our plans to find ways to put the commissioning of queer content, usually guarded by gatekeepers in the media, into your hands.
And in return, you get a weekly summary of the queer world, its news, and the content you might have missed.
But better than that, you'll directly fund queer media careers.
Join the movement
---
Read our FAQs

---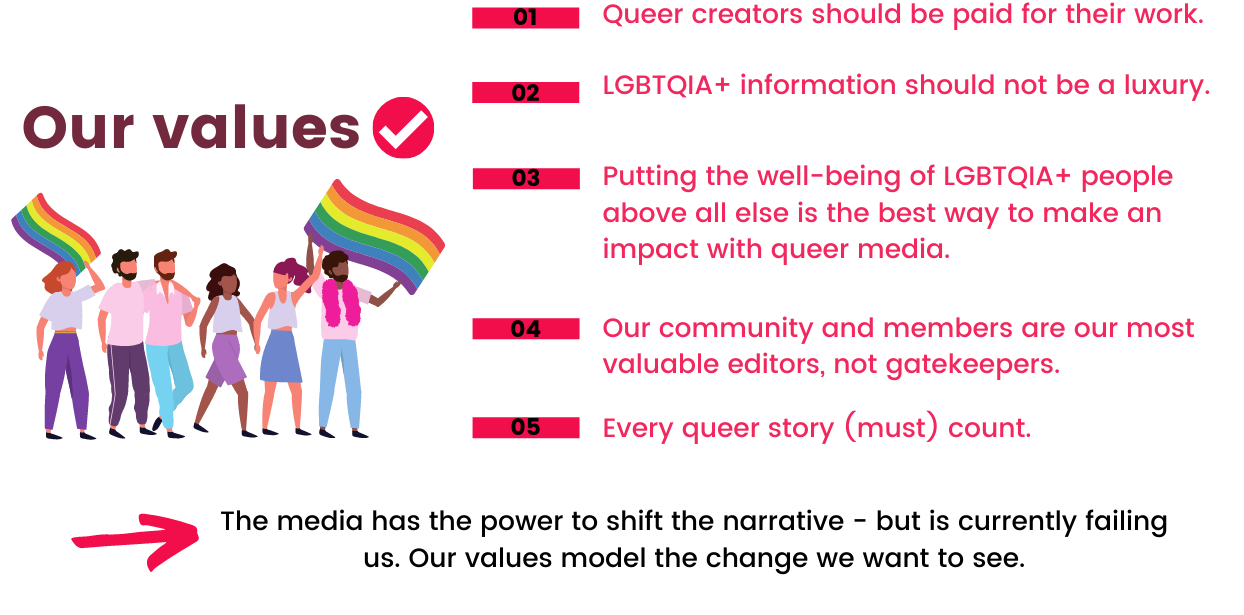 ---
Where did it all begin?
We began as a collaboration with funding from National Student Pride. Together we launched the #QueerAF podcast after our founder was told by a newsroom editor to 'stop pitching gay stories – there is no money or audience in them.'
Four seasons later, our podcast has an international audience, British Podcast Award wins and ARIAS nominations. We have broad industry recognition that our project is vital.
The award-winning scheme has so far commissioned 17 emerging and young queer audio producers, reporters and creatives.
We have even got sponsorship along the way, which we've used, along with funds from National Student Pride to pay our producers.
Each created an episode of our podcast within a mentoring scheme that guides them from pitch to payment.
You can binge the show, in all the places good podcasts exist.
Search '#QueerAF' in your podcast app